The Football Table With Your Brand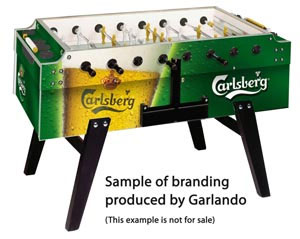 In the past few years football tables have established themselves as a powerful advert
More effective than a poster, longer lasting than a tv spot, the football table conveys its message matching it to the positive values commonly associated to sports and games.
It thus becomes the ideal advertising vehicle for entertainment places, companies and events of various sorts, where people are brought together to have fun and socialize.
The large surface of the cabinet is ideal for coating with a brand distinguishing colours.
Their frequent presence in public places and use for big tournaments provide a continuous and massive exposure of the advertised message to the public.
Garlando was the first company in Italy and probably in the world to catch up with this trend, creating in 1998 a series of football tables with the prestigious J&B trademark.
Today, with over 100 different projects of branded tables Garlando is able to offer its customers the opportunity of having all the steps of the customisation process carried out inside its factory: from the choice of the most suitable football table model, to the graphic project, to the football table coating.
Type Of Coating.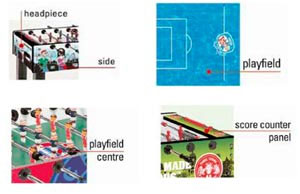 The cabinet can be coated partially or fully on all vertical surfaces.

The boards below the scorers can also be coated.

The playing field can be coated totally or just in the middle only.

Players and scorers can also be moulded in the brand distinguishing colours.
Graphics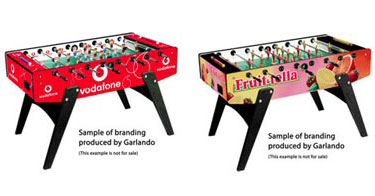 Starting from the requirements of the customer (the company owning the brand or an intermediary) Garlando graphic designers will create some computer designs.
Ater the customer has selected one, all the printing preliminary operations are worked out until the high definition digital printing is laid on with bright and faithful colours.
If preferred, the graphical project can be supplied by the customer, the next steps following as described above.
Advantages of the Garlando service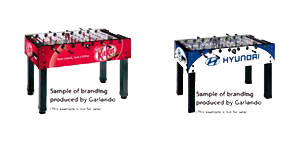 Compared to other advertising agencies, the service offered by Garlando offers many advantages:
The entire output process is controlled inside the factory to obtain a result totally compliant with the customer's requirements.
The production time is reduced both for samples and orders.
Colours faithful to the trade marks, even the complex ones.
No minimum quantities required: service provided even for a single table.
Stage Process
Choose the table you want branding from the available range


Supply your logo and any pantone colours (perferably in vector file)


Garlando create a selection of computer images for you to choose or amend


Your final choice goes to full artwork and print


Final image is laid onto football table using sprecial equipment


Print is covered with hard knock coating for long lasting protection


All done! Ready for shipment

The contents of this section are published only for the promotion of the Play & Communicate project to current or potential clients.
The section contains material registered and/or protected by copyright and/or in the exclusive ownership of third parties, such as trade marks, photos, illustrations, graphic designs, images and other such material (whether protected by legal rights or not).
It is strictly forbidden to use, in any way and for any reason, in whole or in part, the contents of this section.

Customising your football table with your company's corporate logo or just in your favourite design is a superb way of advertising your company or personalising your table.

Use branded football tables as corporate gifts or as a reward to your best employees.

Whatever the colour, whatever the design, whatever the volume, we can produce it.

The pictures on this branded table page are examples only of branding produced by Garlando in the past and are not for sale